Zach Lyons is a NFL Senior Contributor for Broadway Sports. He is also Co-Host of the wildly popular, award winning, and world renowned podcast, "A Football & Other F Words", new episodes released every Wednesday wherever you get your podcasts.. He's also a co-host for Nashville's first ever football only show with a global reach, "A Football Show". "A Football Show" airs LIVE every Monday and Thursday at 1p CST. Subscribe and turn on notifications here.
It's been close to 48 hours since the Tennessee Titans have fired their General Manager, Jon Robinson, in a stunning in-season move. It definitely came as a shock, but immediately was met with majority approval and understanding by those who follow the Titans.
Amy Adams-Strunk put out an official statement, where she cites that there is more to be done, and higher aspirations to be met. It's odd timing because Ownership has seemingly backed Jon Robinson, and even gave him and Vrabel matching extensions.
So how did we get here? What's next?
How We Got Here
After the 2015 season, Jon Robinson was hired and tasked with turning a bottom tier roster into a competition entity in the NFL. He got there very quickly, and the Titans team was able to get a 9-7 record in his first year as GM. The team has never had a losing record under Robinson, so how did we get here?
One of the main issues has been wide receiver, and that starts all the way back to Robinson's first year as General Manager. Just look at the roster of the WR position starting with 2015 and heading into 2016:
| | |
| --- | --- |
| 2015 | 2016 |
| Kendall Wright | Kendall Wright |
| Harry Douglas | Harry Douglas |
| Justin Hunter | Andre Johnson |
| Dorial Green-Beckham | Rishard Matthews |
| Tre McBride | Tajae Sharpe |
When you have a young rookie quarterback you should be loading up on actual pass catching weapons. The earliest he attacked the position in the draft was in the 5th round. Prior to that he signs Matthews a number two wide receiver, and Andre Johnson a veteran already washed. This has been an over arching blindspot during Robinson's tenure.
Jon Robinson then drafts Corey Davis in the first round in 2017, and while he never lived up to his draft stock, proved that he was a capable NFL wide receiver. When 2019 rolls around, Robinson hits the jackpot and drafts AJ Brown.
What was great about this is now the Titans have two viable NFL pass catching threats that complimented each other very well. Both young, both under contract, and what does Robinson do? Let them go. First, he didn't exercise the 5th year option on Davis (more on this insanity later), and then didn't even attempt to talk to Davis about a new contract before he hit free agency (according to Corey Davis himself.)
The trade up to draft Dez Fitzpatrick may be one of his most egregious draft day strategies. Fitzpatrick was a borderline undrafted free agent prospect, and Robinson trades UP to get him and passes over the chance to draft Amon-Ra St. Brown. Now before you clutch your pearls and scream "revisionist history", I have detailed many times over my reaction to the trade up.
When I heard the NFL ding, I thought for sure it was a trade up for St. Brown. Even told my wife in the car that's who it was. So this has been my opinion from the get go. If you had drafted that Brown, maybe it makes trading away the Brown he had more palatable, but probably not.
We all know the AJ Brown situation. The scenes in the war room the night of the draft when it was announced he had been traded. Mike Vrabel was not happy. Really no one was. Now, I have been a big proponent of understanding the Titans side of things, and also when you put all the details on the table that are available to you, that negotiations had become untenable, and AJ Brown/Jon Robinson are both to blame for this not working. However, I've always said I'd rather AJB be on the team than not.
With this firing combined with Simmons comments, you can definitely say that maybe Robinson overplayed the hard stance to a point that it forced Brown to seek out Hurts weeks in advance to scheme a way for him to get out of Tennessee. Which, while immature of Brown and a total undermining of the process, it's still, and always has been, a bad look for Robinson he couldn't maintain control.
Losing control of negotiations led Robinson to having to scramble to fill a pass catching room with Robert Woods and rookies. It was too late to do much else. If Vrabel had the faith to throw the ball, which he doesn't with the current OL, this pass catching group would be ahead of where they were last year in terms of stats. However, that doesn't change the fact that your head coach has essentially said numerous times the offense's hands are tied due to who he has.
Ed Werder had a quote where Vrabel says who the fuck would we have to throw it to? Vrabel has also said I don't understand what you guys want me to do, this is how we win, with the guys we have. There are multiple comments he's made over the season in a similar fashion.
Combine that with the offensive line issues, and this offense can't do anything. The offensive line issues are squarely on Robinson. He built a great offensive line immediately in 2016. Drafting Conklin was huge, but in what turns out to be the new norm with Robinson let him go to Cleveland in free agency, because yet again, he doesn't exercise the fifth year option.
That moment, that decision, had a tremendous trickle down effect that is still hurting this team today. I had a massive issue with that decision in the moment. Robinson spends 2020, 2021, and 2022 on trying to find his replacement while essentially ignoring the issues across the rest of the offensive line.
The worst trade Robinson made though, in my opinion, is trading a 5th Round Draft Pick for Dennis Daley who was 24 hours away from being cut by the Panthers. There are players who are getting cut that you do try to trade for before cut-down day, but nothing…NOTHING suggested that Daley should be that guy, with that high of a pick.
It's a disaster that has hurt this team repeatedly this season and forced them to be confined to a limited version of their playbook, because they can't trust he can do his job.
I'm trying my best not to get too long winded here, so here's an overview of Jon Robinson's 1st Round Draft picks:
| | | | | |
| --- | --- | --- | --- | --- |
| Player | Year | 5th Year? | 2nd Contract? | Status |
| Jack Conklin | 2016 | N | N | Off the team |
| Corey Davis | 2017 | N | N | Off the team |
| Adoree Jackson | 2017 | N | N | Off the team |
| Rashaan Evans | 2018 | N | N | Off the team |
| Jeffery Simmons | 2019 | Y | ? | All Pro Type Player |
| Isaiah Wilson | 2020 | N | N | Off the team |
| Caleb Farley | 2021 | — | — | IR, Benched |
| Treylon Burks | 2022 | — | — | Currently hurt |
Not everyone on the list deserved having their fifth year option picked up or even a second contract, but that's an issue in and of itself! You're drafting players in the first round that can't even stick around on your team very long. That's not good.
Now, you will probably point to the fact that Robinson is great outside of the first round. He has found lots of gems from the 2nd round and beyond. He has made 44 picks during his GM tenure. 4 got a second contract before hitting free agency (Byard, Henry, Landry, Hooker), and one was brought back after flaming out testing the waters in free agency (Jayon Brown). So out of 29 drafted players from 2016-2019 that would be eligible to get a second year contract, only four have gotten them before free agency. That's not good.
Then you have the "COVID Year" of 2020. I wrote about this in an article back in September, but Robinson made comments about how he failed to adjust during the COVID year and blamed it on that. I hated that reason and that really soured my view of Robinson and how he runs the Titans side of things.
That 2020 draft class. Epic disaster for the team. He failed to adapt, again his words, and thinks COVID-19 was just a weird time. It was. However, many businesses and Americans adapted. Also, NFL teams adapted as well. Some of the best drafting teams didn't have this issue. Look at their 2020 draft classes:
Buffalo: 6 of 7 players still on the roster. 3 are starters.
Baltimore: 9 of 10 still on the roster, 5 starters
San Francisco: 5 of 5 still on the roster, 3 Starters
Pittsburgh: 3 of 6 still on the roster, 3 starters
Kansas City: 5 of 6 still on the roster, 4 starters
Cincinnati: 7 of 7 still on the roster, 3 starters
Indianapolis: 6 of 9 still on the roster, 4 starters
L.A. Rams: 6 of 9 still on the roster, 3 starters
Then there's the Titans. One of six on the active roster, one starter, and two guys that were cut, and put on the practice squad, Larrell Murchison, Chris Jackson. It's very pathetic.Then take into account the 2021 draft class:
Caleb Farley: back up, rarely plays, high injury risk.
Dillon Radunz: Can't even find the field. Probably literally, but mainly figuratively.
Elijah Molden: Success, but hasn't contributed in 2022 due to injury
Monty Rice: Can't stay healthy. Not a contributor.
Dez Fitzpatrick: Worthless, chosen over Amon-Ra St. Brown
Rashad Weaver: When available, a success.
Racey McMath: Injured. Maybe a contributor, jury's out.
Brady Breeze: Floating somewhere in the abyss.
So out of the last two draft classes, and fourteen players, you have one sure-fire successful starter. There are other players that start, but mainly if someone gets injured ahead of them. That's a 7.14% success rate out of two draft classes.
All of these decisions came home to roost on Sunday's loss versus the Eagles. As the owner's box was having fans harassing them, but also thanking them every time AJ Brown does something, the owner is watching a team:
Struggle to pass protect because the GM failed to properly fix the issues.
Struggle to move the ball through the air, as the GM has undervalued the WR position
Struggle to cover Wide Receivers, cause the GM missed on two first round corners during his tenure
The WR your GM failed to control during negotiations, goes off
Tom Pelissero reported that he has heard that Amy Adams-Strunk said to the staffers this is a decision that has been on her mind for a long time. I am not sure at what point she started thinking about it, but she has felt excluded from the decision making process by Robinson, and felt his decisions have become too compounded for him to try and fix.
I truly thought he would get another chance to fix things, but I think it's better to move on now rather than later. Bud Adams held onto both Floyd Reese and Jeff Fisher for way too long, and I think we have seen Amy Adams-Strunk is not Bud, and won't make that same mistake.
So What Now?
Well now we see who was/is the reason for certain narratives surrounding this team. Much like when Bowen was officially named DC, the narrative was that the players were to blame for the defense in 2020, not Bowen. That proved to be true. So what else will be proven true?
It will be interesting to see now what was 100% Robinson's fault, and here are the narratives I am going to be keeping an eye on:
How much weight will be given to a Senior Bowl vs Non-Senior Bowl player
Undervaluing the importance of WRs
Blocking Skills at the top of a WR wishlist
Being okay with adding players coming off major injuries
The Prehistoric Offense
The use of Analytics
Who is a Vrabel guy, and who is a Job guy? (Swaim, Hollister, etc)
Then you have the General Manager search. There are already numerous articles detailing who it could or couldn't be, so I am just going to keep it simple with three candidates, and in no order:
Ryan Cowden, interim GM
Monti Ossenfort, Director of Player Personnel
John Streicher, "Stretch", Coordinator of Football Development
Rick Smith was GM for the Texans from 2006-2017, and was responsible for a lot of their high profile players that Bill O'Brien would eventually trade away or alienate. Since being fired, he has been out of the game. He's got a mixed bag resume, and you don't know if he even wants to come back, but he has crossed paths with Vrabel before.
Cowden and Ossenfort are both current staffers who have worked under Robinson, and have been interviewed by other teams for their vacant GM openings over the last two years. The issue with these two individuals is that we don't know how much of the blame they share with Robinson's bad decisions. Were they "yes men", and in complete lock step? Or did they make their dissenting opinions known, and Robinson just ignored it?
You also have to take into account that they haven't thrilled other teams with their interviews. I do know Robinson was a big backer of Cowden's and even had Cowden up there with him for a presser this season, to field questions. Presumably to help get his name even further out there. We can't be sure if Ownership/Vrabel thinks it's a good thing or bad thing to have the backing of Robinson at this point.
The good thing about Cowden is that he immediately made moves. Now whether these were moves both he and Vrabel wanted to make, or just Vrabel, but we can now see that Tory Carter was a Robinson guy, not a Vrabel guy.
Then there's Stretch. Mike Herndon on this week's LIVE "Football & Other F Words" floated this out there and it blew my mind, because the short time I had to think of candidates he never entered my mind. Stretch is the right hand man to Mike Vrabel. They're best friends, and he was thanked in Vrabel's Coach of the Year acceptance speech, while Robinson was suspiciously left out.
Now you may be thinking to yourself: "Zach, he has no experience". Well, he has no "pro level" experience running football programs, but he does have three years of being "Director of Football Operations" at the college level. Most recently he spent two years as Texas State's director of football operations. There he managed the day-to-day operations of the program and oversaw recruiting under Bobcats head coach Everett Withers.
Now obviously a leap from that to the NFL would be a massive stretch, but he has been here for five years right at Vrabel's side. There's no telling how extensive his involvement has been with Vrabel's day to day operations, decision making. We know when Vrabel couldn't coach during a preseason game it was Streicher putting on the headset.
So how involved was Stretch in other aspects of Vrabel's job? He oversaw college recruitment for Texas State, so where was Stretch when Vrabel went to Pro Day's and the Combine? What did he learn in regard to scouting players when Vrabel is watching tape? What we know he has learned these last five years is this: He knows what Vrabel wants, expects, and needs. Maybe that's important.
Then there are the external candidates. I went though Vrabel's history around the league, as both player and coach, to find connections to possible candidates. Here are eight that I found: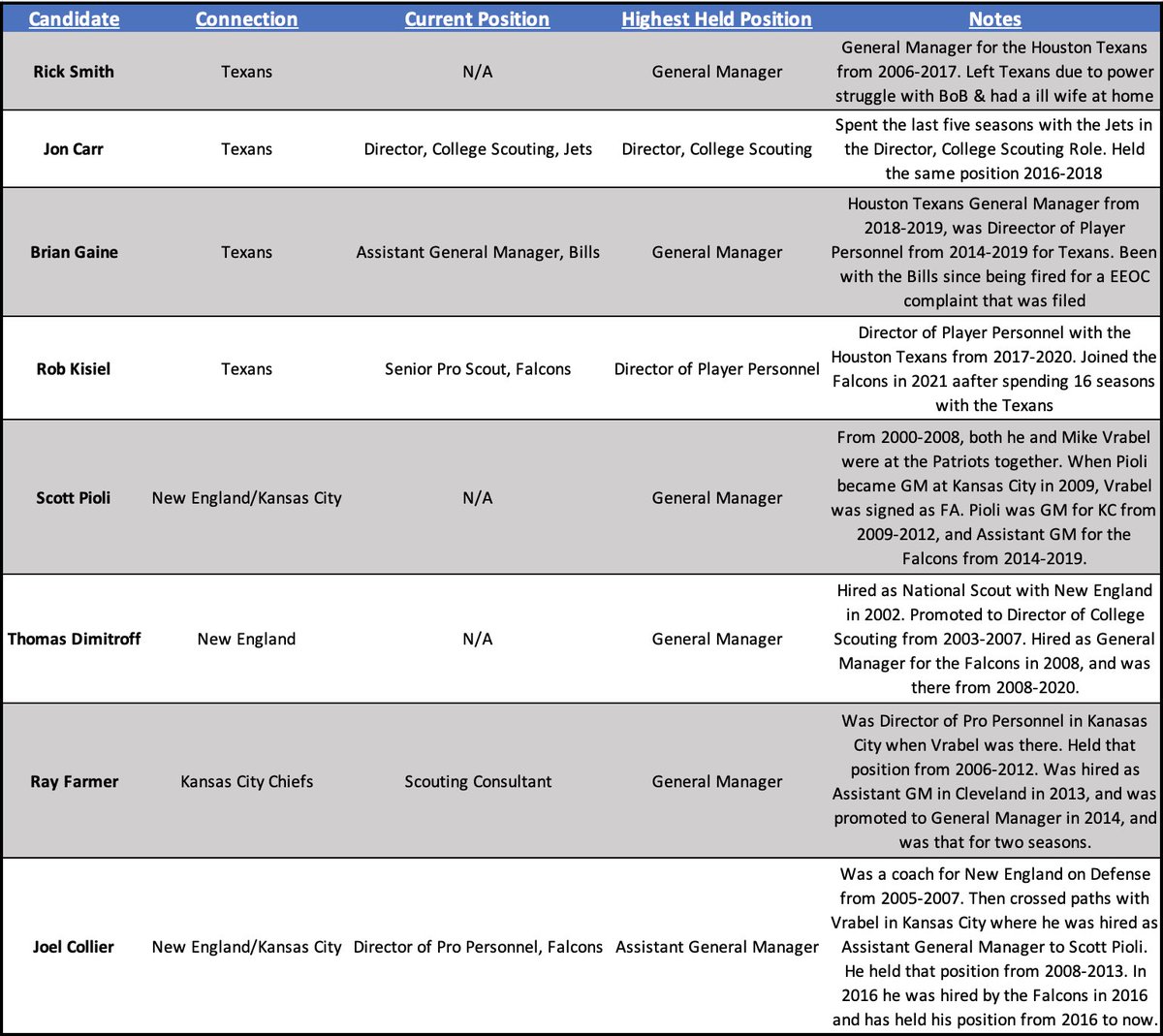 It's really hard to find instances where former General Managers get a second shot at the same position for another team. However, you shouldn't rule out the names that are on the list, because if Vrabel has more control (more on that in just a minute), then maybe one of these candidates who have been out of the game for a while would make sense.
Specifically, Rick Smith, who didn't really leave on your normal terms. He lost the power struggle and ownership chose Bill O'Brien over him, and he chose to bow out so he could take care of his terminally ill wife. If your biggest complaint of Jon Robinson is the lack of first round draft picks let me introduce you to Rick Smith:
Deshaun Watson
Will Fuller
Kevin Johnson
Jadeveon Clowney
DeAndre Hopkins
Whitney Mercilus
J.J. Watt
Kareem Jackson
Brian Cushing
Duane Brown
Amoeba Okoye
Mario Williams
Way more hits, than misses, and when he hit, he hit big.
Thomas Dimitroff is an intriguing retread because he spent 12 seasons as GM for the Falcons, and built an NFC contender, including draft a franchise QB and high end offensive weapons. Like most NFL hires he overstayed his welcome, and in trying to chase that 2016 magic he put the Falcons in a bad cap situation.
However, he's a generally bright mind, who knows how to build a team that can get to a Super Bowl via offense. Let him handle that, Vrabel handle defense. Profit.
My third favorite candidate on the list is a guy that hasn't done this before, but I find Jon Carr to be a sneaky underdog pick for GM. Outside of Zach Wilson, which he would need to tell the Titans how he felt about him, the Jets have built up a good young core under him and Joe Douglas.
The last option is for Vrabel to assume all control. I think its a 99.8% chance the is not happening. I do think Vrabel gains more responsibility/power though. In my mind he lets his GM do his thing, they work closer together, but he gets final say and sets assignments.
I'm all for that. If Vrabel had veto power AJ Brown would probably be here. Simmons would probably already be signed. No telling what else. I think Vrabel is third of being confined, restricted by the personnel the last two years, and is ready for changes to get to a Super Bowl.
The flip side to all of this is, what if the next guy sucks! The grass is always greener, and blah blah blah. For me? I have the utmost faith in ownership and Vrabel in hiring the right person. Specifically I have faith in Amy Adams-Strunk. She knew Mularkey could keep momentum and right the course for the Titans in 2016. Hired Jon Robinson specifically cause he would work with Mularkey.
She knew when to cut bait with Mularkey because he was too loyal and hit his ceiling, and she hired Mike Vrabel, with Jon Robinson's counsel at her side. Now she knows that this team has probably hit its ceiling under Robinson, and has chosen to move on, and now she hires a new GM, with Vrabel's counsel at her side. there is no factual reason to believe that they won't hire the right person for this job, because in their mind that person means Super Bowl. That's the aspirations she has in mind.
Conclusion
In the end, there are a lot of ways to feel about this situation. Shocked is the first thing that comes to mind. This is easily the most surprising event in Titans history. Understanding, because while Robinson did a lot of great things, it feels he made too many errors that couldn't quit cascading into bigger and bigger errors.
Scared, because there is a small chance they hire the wrong guy. There's also the scary aspect that the things we hate philosophically about this team aren't tied to the personnel Vrabel has been given.
Excited, because things could get exponentially better, very quickly. The players we all despise could be gone, a better middle part of the roster, and playmakers that Vrabel believes in are drafted and signed.
Most importantly, I feel a sense of pride. Leading into the Eagles game, various fans/analysts were starting to turn on Amy Adams-Strunk citing she was cheap, poor, or doesn't know a damn thing about winning football. Well let me tell you something, she hired Vrabel, Robinson the two guys who have sustained a winning culture by a guy she kept on in Mularkey.
She is building a new stadium, got the NFL Draft here, and has invested in new facilities, jerseys and various other things for this team, the city, and fans. She wants a Super Bowl. Not just the event, but a trophy, and you should feel proud your owner isn't settling for less.
However, she still needs to address the media.
Author: Zach Lyons
With over 17 years experience of losing Fantasy Football games, Zach has been a Titans fan since moving to Nashville in 2002. A die-hard Alabama fan, but he doesn't let that cloud his judgement of the Elite Players they have put in the NFL. Players like Derrick Henry, Julio Jones, and AJ McCarron. You've heard him on Football & Other F Words giving his Unfiltered Opinions as facts and that won't change. He's always 100% right even if he has to revise earlier statements. Lawyered.