Broadway Best Bets is a weekly NFL betting article selecting the five preferred NFL lines of each week. Note: Sports gambling advice is intended for recreational purposes only. All odds and lines are from William Hill US Sportsbook unless otherwise noted.
Thursday Night Football is complete — and what an exciting game we received for its final offering of 2020. That brings us to the start of Saturday NFL action, which means the best bets are coming out on Saturdays as long as we have games to talk about!
As temperatures continue to drop around the country, the Best Bets cold streak hit an all time low last week, going 0-5. I sure hope you took my advice (and Zach Lyons' as well) and faded all the picks. We'll try to turn thing around this week, but things haven't gone our way this season, so perhaps fading us is the best strategy until we start to heat up again.
Broadway 2020 Season Record: 26-39-6 AKA really bad
Carolina Panthers at Green Bay Packers (-8)
The Panthers have been reeling a bit, dropping two straight after shutting out the Lions a few weeks back. Now they travel to Green Bay for a meeting with the current top-seeded team in the NFC.
The Packers are 8-5 ATS this year and 4-2 ATS as a home favorite. Green Bay's average margin of victory in those six home games is 10.5 points. The Packers are also 4-0 ATS in primetime this season. Matt LaFleur's group is the top offense by weighted DVOA, while the Panthers have the 27th-ranked defense by weighted DVOA.
Green Bay needs to keep winning to stay ahead of New Orleans in the race for that first-round bye, and this feels like too much of a mismatch for the inconsistent Panthers to keep things tight.
The Pick: Packers -8
New England Patriots at Miami Dolphins (-1.5)
Back in Week 1, the Ryan Fitzpatrick-led Dolphins traveled to New England for this divisional matchup, but the Fitz-magic wasn't enough for Miami to get the win. That Dolphins loss was one of just three games this season in which Miami has failed to cover the spread. In fact, Brian Flores' squad has the top ATS cover percentage of any team in the league at 10-3, with the next grouping of teams coming in at 8-5, a cluster that includes eight teams.
The Patriots are coming off extra rest days, having faced the Rams last Thursday. Perhaps that's why the line has moved from Miami -3 to Miami -1.5 despite nearly 80% of the money coming in on the Dolphins.
It's really hard to beat a team twice in one season, and the Dolphins are trending upwards as they fight for a playoff spot. Their defense should be able to suffocate a one-dimensional Patriots offense. Bill Belichick's record against rookie quarterbacks is the scary concern here, but with Flores there to help prepare Tua Tagovailoa for what the defense might throw at him, I feel okay taking Miami to cover this narrow spread.
The Pick: Dolphins -1.5
Chicago Bears at Minnesota Vikings (-3)
Can we get a round of applause for Bill LazorCats? Since he took over play-calling duties for Chicago, Mitch Trubisky has looked more and more like the number two overall pick the Bears thought they were getting when they traded up one spot in 2017. Granted, two of those games came against terrible defenses in Houston and Detroit, but Minnesota's defense is in the same class as those two struggling units. Even David Montgomery looks somewhat like the infamous graphic suggested he would in Lazor's version of the offense.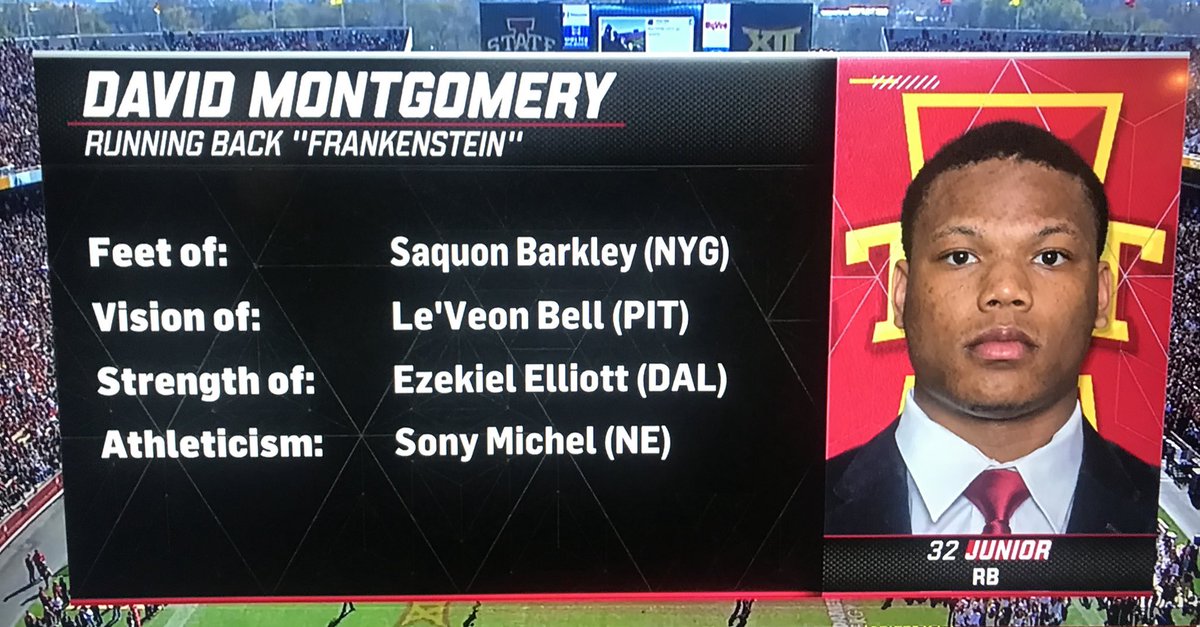 Kirk Cousins was able to move the ball fairly well against a tough Tampa Bay defense last week, but Dan Bailey missed three field goals and an extra point, allowing the Bucs to maintain a double-digit lead. Cousins really struggled when the Bucs were able to collapse the pocket; he fumbled twice (losing one), and Minnesota converted just five of 15 third-down tries. The Vikings are 0-4 ATS in their last four games and 1-5 ATS as home favorites this year.
I fear for Cousins' safety against Khalil Mack and this tough Bears defense, and I think Chicago could win the game outright.
The Pick: Bears +3
New York Jets at Los Angeles Rams (-17)
Last week, I was on the Jets to cover against a struggling Seattle team. Well, that was silly, because the Jets got waxed 40-3 in what proved to be the very definition of a "get right" game for the Seahawks. The Rams don't exactly need a "get right" game, but this is a terrible spot for the Jets. After traveling all the way to Seattle and back last week, they now have to fly to the West Coast again, this time after their worst loss in a miserable season of bad losses.
Cam Akers came alive last Thursday night against New England, but the Rams may not need him. Jared Goff is set up for a big fantasy semi-finals game, as the Jets continue to allow the second-most passing yards per game despite being in situations every week that would lead to opponents running out of the clock instead of throwing all over the yard. I think the Rams win by 20-plus.
The Pick: Rams -17
Lock of the Week
Seattle Seahawks (-6.5) at Washington Football Team
Two weeks ago, the Seahawks humiliated me when I locked them up against the Giants. Colt McCoy, who came into the match with the worst cover percentage against the spread of any quarterback in the Super Bowl era, somehow upset Seattle in their own stadium.
Then last week, I picked against Seattle to cover over the Jets. Seattle hadn't won a game by more than 13 points all season, and they were laying 15 (the line actually closed at SEA -16.5). I wrote, "Seattle is in a funk. Will they snap out of that funk against a terrible Jets team? Possibly."
Well, as referenced above, they absolutely crushed that terrible Jets team 40-3, snapped out of their funk, and are firmly in competition for the NFC West title, tied with the Rams for best record in the division at 9-4. They'll travel to face a tough Washington defense, but the real kicker here is that Dwayne Haskins will start at quarterback for the Football Team with Alex Smith ruled out.
Per ESPN's Brady Henderson, Haskins has the worst Total QBR in the NFL this year among QBs with at least 100 attempts. The Washington offense was much better with Smith at QB, and sensational rookie Antonio Gibson — second on the team in yards from scrimmage behind Terry McLaurin — is doubtful for this game.
The Football team has looked good on their four-game win streak, but that wasn't with Haskins starting at QB. I think Seattle got their groove back. Even against this tough defense, the Seahawks have too much firepower on offense for Washington to keep up.
The Pick: Seahawks -6.5
How Betting Lines Work
A quick reminder for anyone unfamiliar with betting lines. "Favorites" are listed next to a negative number, which represents how many points they must win by to "cover the spread." Titans -2.5, for example, means that Tennessee must beat the Broncos by 3 points or more for bettors to win. Gamblers can also bet on the game's "total," betting on whether or not the teams' combined score in the game is over or under a pre-selected number of points.
"ML" or "moneyline" is not against the spread, just picking the winner of the game. Many people refer to the moneyline as "straight up," but this can be confusing, because if you're ever at a betting window in Vegas, a "straight bet" means you are betting on the point spread. Instead of saying "straight up," you'd want to say "moneyline" when you mean to pick the winner of the game regardless of the point spread to avoid any possible confusion.
Author: Justin Graver
Perhaps best known as @titansfilmroom on Twitter, Justin Graver has been writing and creating content about the NFL and the Tennessee Titans for nearly a decade as a longtime staff writer (and social media manager) for the SB Nation site Music City Miracles. Although JG no longer writes for Broadway Sports, his Music City Audible podcast with co-host Justin Melo continues.