Oh hell, here's another injury report analysis for you to see the continued demise of this football team.
Let's do a quick analysis of the report.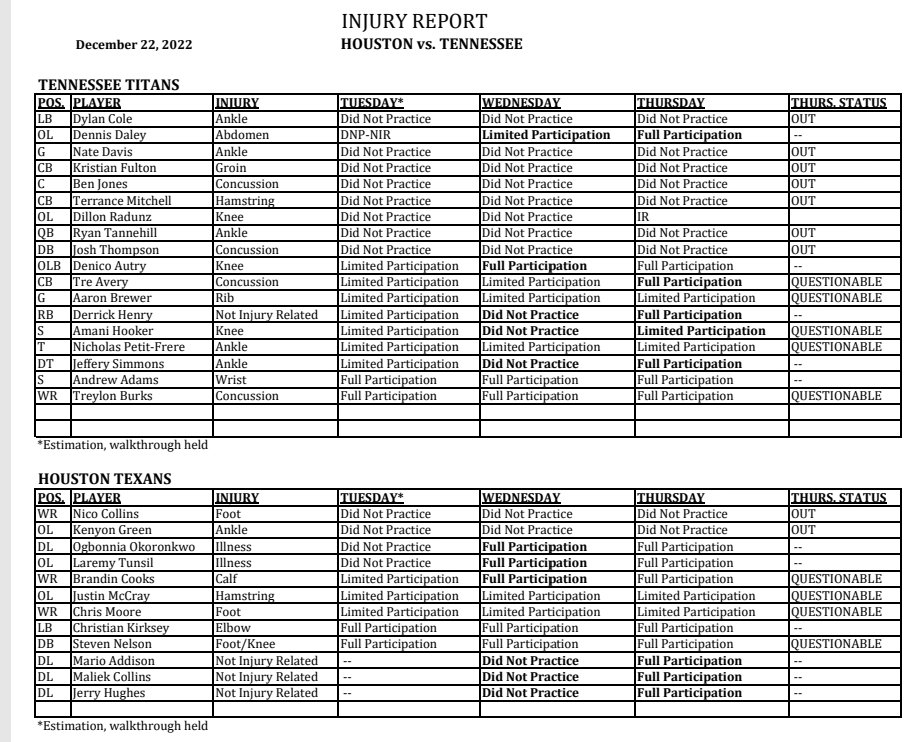 Probably Goodbye
Ben Jones (Concussion – IR): I would say after suffering two concussions back to back and being as old as he is, this may be it for Ben Jones. Wouldn't blame him, and he will go down as one of my favorite Titans.
Ruled Out, No Surprise List
Ryan Tannehill (Ankle): Likely out for the rest of the season.
Nate Davis (Ankle): Wouldn't be surprised if we get further bad news on his status for the rest of the year. Also, he just can't stay healthy, have to wonder what his market is going to be like.
Kristian Fulton (Groin): AJ Brown broke him
Terrance Mitchell (Hamstring): Soft Tissue injury, which means the Titans staff will have him ready to go in 2024
Dylan Cole (Ankle): This must be an issue compounded over time when offensive playmakers kept making moves on him
Keep an Eye On:
Amani Hooker: His availability on game days is always up in the air for some reason lately.
Aaron Brewer/NPF: They likely play, but still some concern for them in-game
Big Time Players Playing
Denico Autry (Knee): Desperately needed back. I could cry tears of joy
Treylon Burks (Concussion): Interested to see how many of Malik's 10 passes go to him
Playing
Dennis Daley (Talent): God hates us.
Tre Avery (Concussion): Yay I guess?
The Enemy
Brandin Cooks: Finally playing, cause players always get healthy for Titans games
Nico Collins: Out, but the team gets back Cooks and has ben playing fine without him
Kenyon Green: Out, big deal especially with Autry back in the fold for the defense.
Author: Zach Lyons
With over 17 years experience of losing Fantasy Football games, Zach has been a Titans fan since moving to Nashville in 2002. A die-hard Alabama fan, but he doesn't let that cloud his judgement of the Elite Players they have put in the NFL. Players like Derrick Henry, Julio Jones, and AJ McCarron. You've heard him on Football & Other F Words giving his Unfiltered Opinions as facts and that won't change. He's always 100% right even if he has to revise earlier statements. Lawyered.