With the game on Sunday versus the Chargers, both the Tennessee Titans and the Los Angeles Chargers have submitted their final injury reports.
Let's do a quick analysis of the report.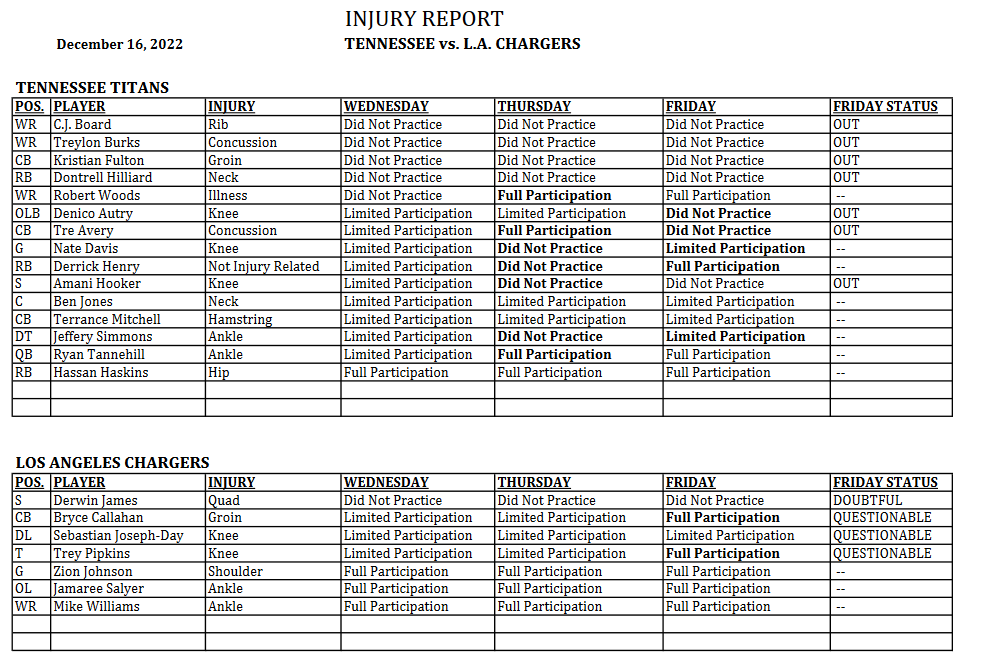 Ruled Out, No Surprise List
Dontrell Hilliard (Neck)
Treylon Burks (Concussion)
CJ Board (Ribs)
Ruled Out, Life Sucks Edition
Denico Autry (Knee): Shit
Amani Hooker (): Fuck
Kristian Fulton (Groin): Damn
Tre Avery (Concussion): Life is Meaningless
Playing
Hassan Haskins (Hip)
Ben Jones (Neck)
Derrick Henry (Not Injury Related)
Ryan Tannehill (Ankle)
Nate Davis (Knee)
Jeffery Simmons (Ankle)
Potential Call Ups
WR and CB are in dire straits and need some reinforcements this week:
WR
Chris Conley: Most likely in my opinion.
Reggie Roberson Jr
Mason Kinsey
Dez Fitzpatrick
CB
Greg Mabin
Davontae Harris
Kyron Brown
Putting Safeties like Kalu, Thompson, Hooker in the slot.
Author: Zach Lyons
With over 17 years experience of losing Fantasy Football games, Zach has been a Titans fan since moving to Nashville in 2002. A die-hard Alabama fan, but he doesn't let that cloud his judgement of the Elite Players they have put in the NFL. Players like Derrick Henry, Julio Jones, and AJ McCarron. You've heard him on Football & Other F Words giving his Unfiltered Opinions as facts and that won't change. He's always 100% right even if he has to revise earlier statements. Lawyered.