With the game on Sunday versus the Jaguars, both the Tennessee Titans and the Jacksonville Jaguars have submitted their final injury reports.
Let's do a quick analysis of the report.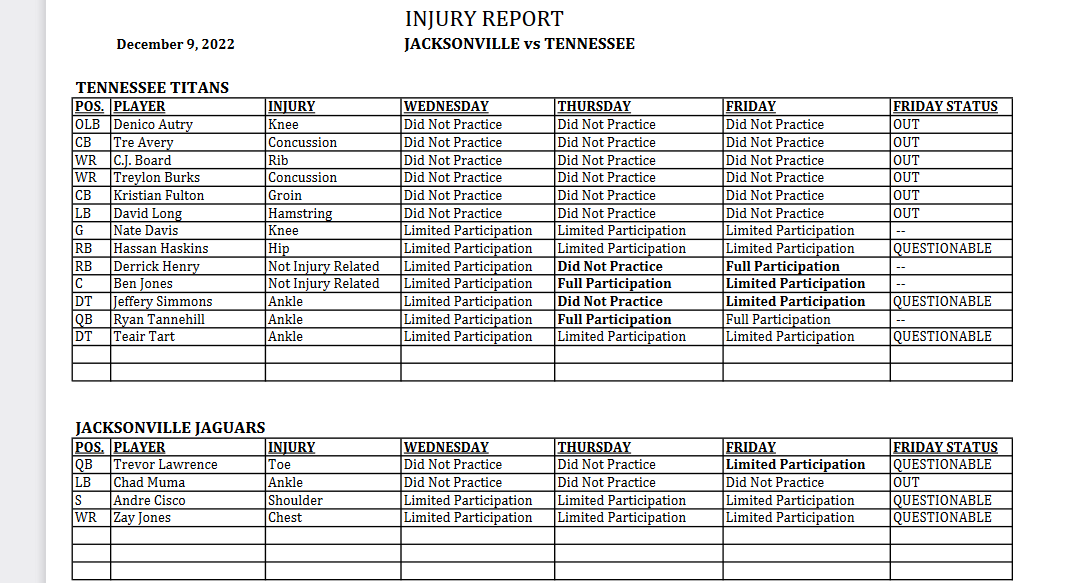 Not Playing
Denico Autry (Knee): Get well soon MVP
David Long (Hamstring)/Kristian Fulton (Groin): Name a better duo than Soft Tissue Injuries and Titans Players. Seriously. The Fulton OUT designation combined with Avery also being out really puts the Titans in a bind depth wise.
Treylon Burks/Tre Avery (Concussion): Didn't come close to getting cleared for protocols. Look for them to hopefully rebound next week
CJ Board (Ribs): Out. Whoever replaces him just needs to make good, sound decisions, and not turn the ball over or put the Titans in bad field position.
Up in the Air
Hassan Haskins (Hip): Looking likely to return this weekend.
Playing
Ben Jones (Not Injury Related)
Derrick Henry (Not Injury Related)
Ryan Tannehill (Ankle)
Nate Davis (Knee)
Teair Tart (Ankle)
Jeffery Simmons (Ankle)
Potential Call Ups
WR and CB are in dire straits and need some reinforcements this week:
WR
Chris Conley: Most likely in my opinion.
Reggie Roberson Jr
Mason Kinsey
Dez Fitzpatrick
CB
Greg Mabin
Davontae Harris
Kyron Brown
Putting Safeties like Kalu, Thompson, Hooker in the slot.
The Best News
People that were absent from the list all week: Bud Dupree, Ola Adeniyi, & Racey McMath
The Enemy
Trevor Lawrence (Toe): Finally returned to practice in a limited capacity. Likely he will play on Sunday, and that is a good thing for a depleted Titans defense, because there will be minimal threat of him keeping the ball to run it.
Zay Jones (Chest): Zay Jones has been limited all week with a Chest injury, he is very likely playing.
Author: Zach Lyons
With over 17 years experience of losing Fantasy Football games, Zach has been a Titans fan since moving to Nashville in 2002. A die-hard Alabama fan, but he doesn't let that cloud his judgement of the Elite Players they have put in the NFL. Players like Derrick Henry, Julio Jones, and AJ McCarron. You've heard him on Football & Other F Words giving his Unfiltered Opinions as facts and that won't change. He's always 100% right even if he has to revise earlier statements. Lawyered.