Could the Titans be getting healthier? Key players are starting to make some progress as the Titans have a very important game coming up against the Los Angeles Chargers.
Here's a quick peek at the injury report for both teams.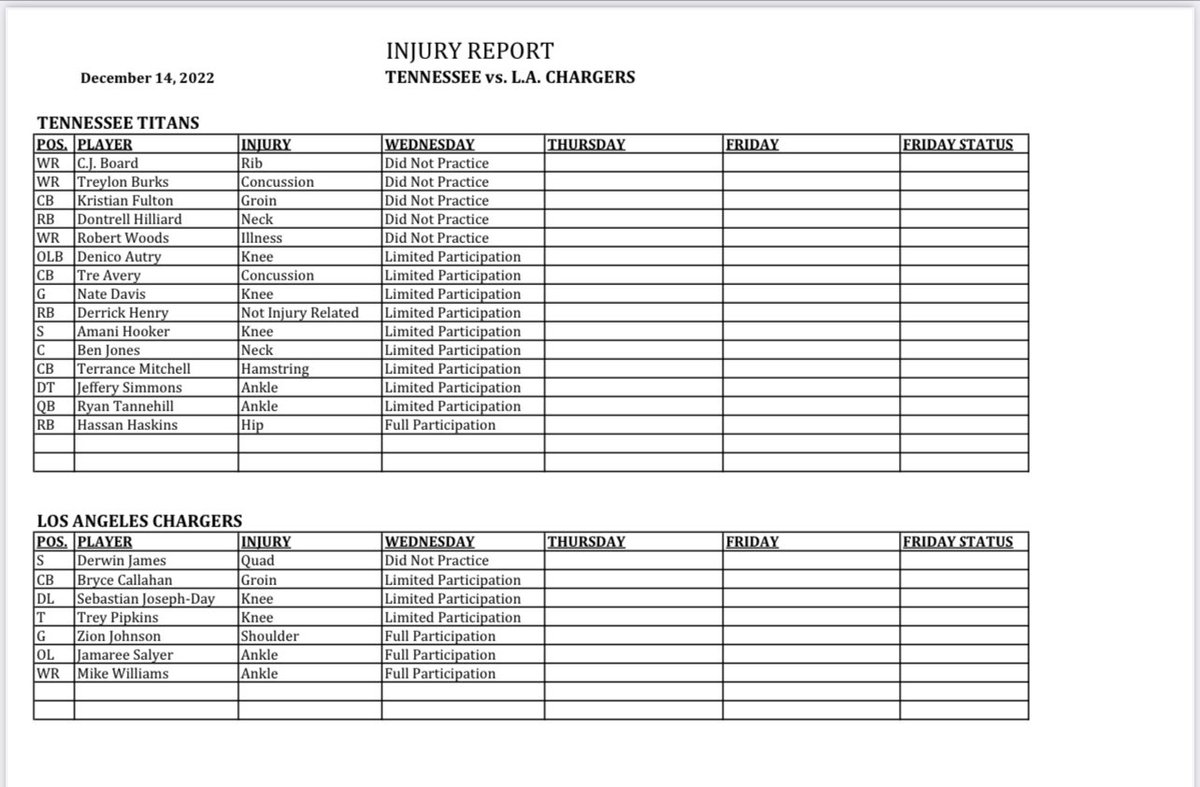 21-day Practice Window is Opened
Zach Cunningham: The Titans could get a boost on their defense is Cunningham's conditioning is up to snuff. He'd be huge help in covering the backfield and in run defense.
Injuries from Sunday's Game
Robert Woods (Illness, DNP): Nothing to worry about
Dontrell Hilliard (Neck, DNP): Hilliard had a scary moment during Sunday's game versus Jacksonville. Vrabel did say post-game signs were encouraging, but Hilliard will probably be out for a good bit.
Progress!
Denico Autry (Knee, LP): Denico Autry looks to be making some progress. It will be interesting to see if he goes Limited today, Rest tomorrow, Limited or Full Friday, and if thats enough for him to get back into the rotation to take advantage of a porous Chargers' OL
Hassan Haskins (Hip, ): Will have a bigger role than usual with Hilliard out. If he has a good week of practice he should see his usage trend up, and also Chestnut should probably be active as well.
Concussion updates
Treylon Burks (Concussion, DNP): Treylon Burks took a massive, nasty hit to the head versus the Eagles. His body seized up or he lost consciousness as he hit the ground. Either way his road to recovery was always going to be longer. He has to log a practice, and then clear a medical check the next day, to be eligible to come off the protocol.
Tre Avery (Concussion, LP): Avery was on the field, and has taken the first step towards clearing the concussion protocol. He will have a medical check up tomorrow morning.
Still Not Practicing
Kristian Fulton (Groin, DNP): A groin injury heals up best with rest. Here's hoping he can log at least a limited practice this week to change his outcome for the game on Sunday.
CJ Board (Ribs, DNP): Looking like recovery from his ribs injury is taking a little longer than expected for a minor injury. With Hilliard gone, Board down. Chestnut, McMath, Haskins will all see duties at returner.
The Enemy's Biggest Players
Derwin James (Quadricep, DNP): The overpaid safety who is talented but can never stay healthy, is not healthy. Titans don't have players in the passing attack to really take advantage of his absence
Author: Zach Lyons
With over 17 years experience of losing Fantasy Football games, Zach has been a Titans fan since moving to Nashville in 2002. A die-hard Alabama fan, but he doesn't let that cloud his judgement of the Elite Players they have put in the NFL. Players like Derrick Henry, Julio Jones, and AJ McCarron. You've heard him on Football & Other F Words giving his Unfiltered Opinions as facts and that won't change. He's always 100% right even if he has to revise earlier statements. Lawyered.