I know an injury report analysis piece is the last thing on everyone's mind, but it is important to remember that there is an actual game to be played on Sunday, and a game requires players. So let's see who is healthy and who isn't coming out of the Eagles loss this last Sunday.
Here's a quick peek at the injury report for both teams.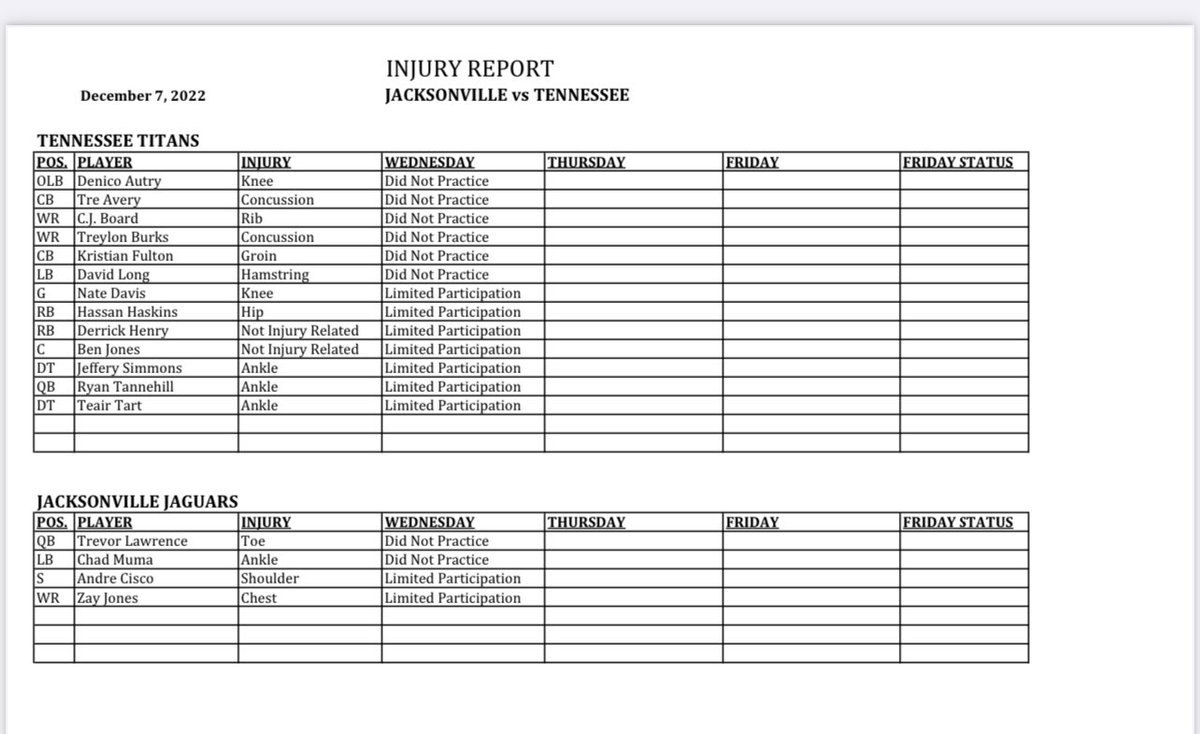 21-day Practice Window is Opened
Racey McMath: Much needed help for the Titans pass catchers. Look no one, but like three people, think Racey McMath is some All-Pro Player or sure fire solution, but he will help. The Titans need a deep threat to open up the field, he is that. It won't be an immediate impact as Mike Vrabel said on Monday's presser he will be limited, and eased in.
Josh Thompson: Okay.
Back to IR
Elijah Molden: Either he wasn't ready to come back, wasn't given a good rehab game plan, or a mixture of both, but Molden is back on IR. He can come back by the earliest Week 18, but probably aim for either playoffs or next year.
Players Injured During Eagles Game
Treylon Burks (Concussion, DNP): Obviously in concussion protocol, and we know the Titans always play it cautious with players' health in this regard. He has to log a practice, and then clear a medical check the next day, to be eligible to come off the protocol.
David Long (Hamstring, DNP): The last time David Long had a hamstring injury he missed several games in a row. Hopefully, this injury is not as severe as that one.
Kristian Fulton (Groin, DNP): The Titans need Fulton's groin to heal up, don't want it to be a season long lingering effect.
New Editions
Tre Avery (Concussion, DNP): While the shine wore off versus the Eagles, the Titans can't afford to be down potentially three CBs heading into Sunday's game where the Jaguars have threats in the passing game.
CJ Board (Ribs, DNP): Hopefully its just a bruise and he's getting rest. While he hasn't been exceptional, he is still the best option for punt returner the Titans have, and have had.
Players on the Report from Last Week that Didn't Play vs Eagles
Denico Autry (Knee, DNP): Get well soon, please.
Hassan Haskins (Hip, Limited Participant): Trending in the right direction after popping up on the injury report Friday and subsequently not playing versus the Eagles.
Denico Autry:
Lingering on the Injury Report, but of no Concern
Jeffery Simmons (Ankle, Limited Participant): Jeffery Simmons practiced, but is listed on the injury report as limited with an ankle issue. He probably will get a rest day tomorrow though. He will play though.
Ryan Tannehill (Ankle, Limited Participant): Same as Jeff. In fact, Tannehill said today he feels great.
Nate Davis (Knee, Limited Participant): Same as the previous two.
The Enemy
Trevor Lawrence (Toe, DNP): Trevor Lawrence is day-to-day. If he isn't able to go, which I think he likely will play, it will be San Francisco 49ers Great, CJ Beathard. I'd much rather play a hobbled Trevor Lawrence than Beathard.
Zay Jones (Chest, Limited Participant): Jones and Lawrence have built a nice rapport, so it would be great if both missed, or at least one of them did.
Author: Zach Lyons
With over 17 years experience of losing Fantasy Football games, Zach has been a Titans fan since moving to Nashville in 2002. A die-hard Alabama fan, but he doesn't let that cloud his judgement of the Elite Players they have put in the NFL. Players like Derrick Henry, Julio Jones, and AJ McCarron. You've heard him on Football & Other F Words giving his Unfiltered Opinions as facts and that won't change. He's always 100% right even if he has to revise earlier statements. Lawyered.