As the Titans worked to overhaul their defense, their biggest free agent signing in this 2021 offseason was edge rusher Bud Dupree. I'll be the first to admit that Dupree was not my first (or even second) choice for a free agent edge rusher signing. In addition, Dupree was the second-highest paid edge rusher in this free agency period behind Shaq Barrett. It felt like a bit of an overpay, especially considering there were arguably better options (Carl Lawson) on the market.
However, this criticism of valuation and other options does not mean Dupree is a bad player at all. He is actually a very good one. Titans' fans may not want to hear this, but he is very similar to a healthy Jadeveon Clowney. I mean that in the best way possible. This mold of explosive and power is exactly what the Titans want at the position. Ultimately, regardless of price tag, the Titans are getting a good player and improving on defense.
The Injury
Before we break down the film, we have to discuss a crucial component of Dupree's free agent profile — his injury. Dupree tore his ACL on December 2nd, 2020. However, Dupree is progressing nicely through his rehabilitation program and told ESPN that he plans to be fully ready for training camp. Despite this injury, the Titans invested a hefty contract in Dupree, indicating confidence from the team in his knee recovery and durability. Dupree has also recently even posted videos of himself jogging, which means he is right on track for a full recovery.
Also, something notable is Dupree's injury history. While injuries are largely volatile and inevitable in a sport like football, the biggest predictor of future injury is past injuries. According to Sports Injury Predictor, Dupree has only sustained two major injuries previous to this ACL tear in his 6-year tenure with the Steelers for a total of 15 games missed due to injuries. While he may not have the perfect injury history, he still has been proven to be a much more durable player than Clowney.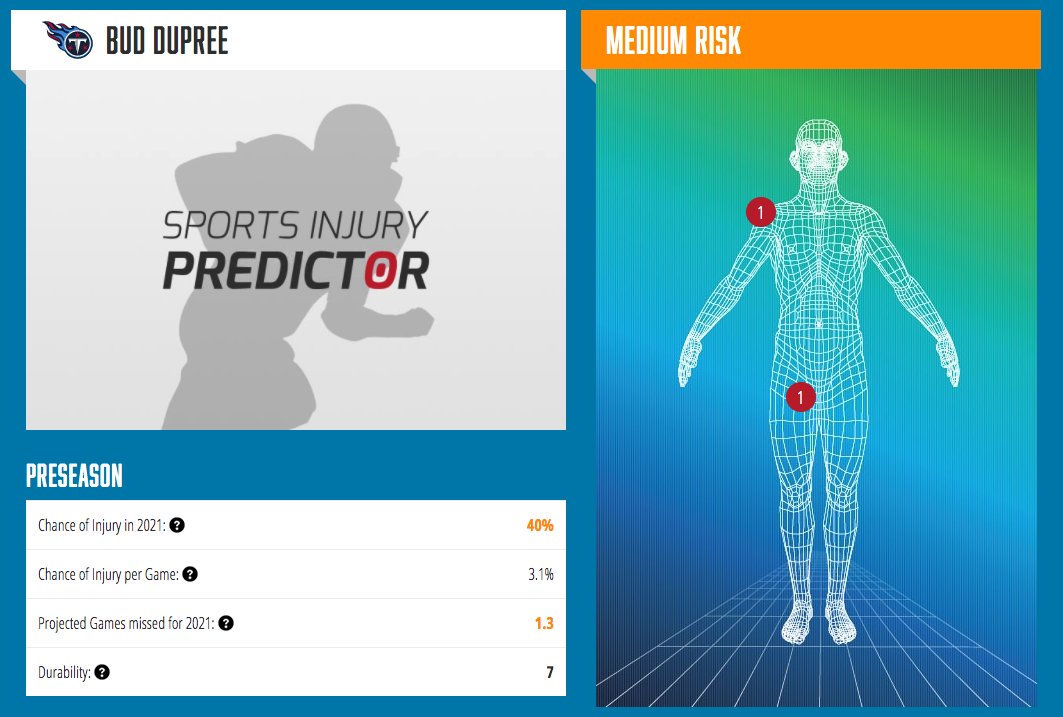 Barring any major setbacks, we can expect Dupree to be starting Week 1 of the 2021 season. However, just note that even though he is back to playing, he may not have the same burst and explosiveness early in the season. Getting back to full speed and strength often takes a year or two post-ACL reconstruction. However, by the looks of how hard Dupree is training, I would not be surprised if it is a little sooner for him.
The Stats
After posting fairly average production in his first four seasons in the NFL, Dupree finally blossomed in these last two years. He was on pace for double-digits sacks in back-to-back season before sustaining his injury in December. In fact, he would have totaled more sacks over the past two seasons, despite missing five games, than any player on the Titans.
| | | | | | | |
| --- | --- | --- | --- | --- | --- | --- |
| Year | Games Played | Tackles | Sacks | Tackles for loss | QB Hits | Pressures |
| 2019 | 16 | 68 | 11.5 | 16 | 17 | 51 |
| 2020 | 11 | 31 | 8.0 | 8 | 15 | 43 |
Now, there are two sides to Dupree's production coin. Some argue that Dupree is a beneficiary of the Steelers blitz-heavy scheme and elite surrounding defensive linemen, while the other side argues the opposite; that Dupree was elevating those around him. After watching the film critically, I would say both sides are technically right. Dupree and the Steelers had a symbiotic relationship, with elite players around him boosting his production but also benefitting from his presence.
I'll discuss this more in the film section, but a lot of Bud Dupree's stats came off of coverage and cleanup sacks — his 13 coverage/clean-up sacks ranks second among edge rushers over the past two years.
However, Next Gen Stats shared a graphic that shows how impactful Dupree was to the Steelers' pass rush. The chart below shows a significant decreases in sack rate and pressure rate, especially on third downs and non-blitzes, when Dupree went down.
We need to look at the film to explain his production fully….
The Film
Let's start off this film review with what Dupree does well and how he wins on the field.
The first thing that popped out was how explosive and powerful he is. He wins mostly with his elite athleticism and excellent motor. It seems like he is playing at 110% whenever he is on the field, no matter the situation. This especially shows up against the run when he blows up plays in the back field.
For example, look at this play against Saquon Barkley. Dupree appears to be unblocked as the backside defender, but that's only because he explodes off the line to make this tackle-for-loss so quickly. The Giants are pulling right guard Kevin Zeitler around, and his assignment is to wall off Dupree. Zeitler can't reach him in time and Dupree blows this up in the backfield.
Here against the the Jaguars, Dupree cross-chops around the edge and demonstrates great burst to close in on the tackle for loss. He also is great at keeping his head up against the run and identifying the ball carrier.
In addition to his burst, he has really nice power to overwhelm on blocks and make back-breaking tackles. This hit on 6-4, 254-lb. Austin Hooper in the open field is one of my favorite plays from Dupree in 2020.
This power element of Dupree's game shows up a ton against the run.
In this next clip, Dupree doesn't directly make the tackle, but notice how he completely overwhelms #82, pushing him back into the the rushing lane and allowing the defenders behind him to make the tackle.
Another trait that showed up on film for Dupree was his relentless motor and effort level.
For example, in this clip below, watch how Dupree pursues Daniel Jones all the way outside the pocket. His closing speed allows him to disrupt the throw off the release, which resulted in an interception in the red zone.
Another example, this time in a third-and-ten situation. Dupree quickly recognizes the screen and makes the tackle for a minimal gain.
The main improvements since his first four relatively disappointing seasons in the NFL are with his hand usage and pass rush approach. While not perfect or consistent yet, Dupree has started to incorporate a ton of different pass rush moves in order to get to the quarterback, in addition to his natural athleticism and hihg-motor plays. In his first four seasons, Dupree was consistently producing four to six sacks per season, but once he started making improvements to his pass rush arsenal, his production took the next step.
Dupree doesn't have one main "go-to" move, but he does have a variety of different moves that have been shown to be effective on film. Here are a couple of examples from 2020:
These highlights are nice and really pop out on film, but Dupree just needs a bit more consistency in using his hands to win his reps. Dupree still often just tries to out-athlete or out-hustle opposing offensive tackles, which works sometimes, but to get more consistent production off the edge, he will need to use his hands and rush with a plan.
This lack of a consistently effective rush plan really showed up on film against higher levels of competition. For example, in his game against the Texans' Laremy Tunsil, Dupree could not get by to generate pressure. Once Tunsil took away the outside edge, Dupree had no effective counters.
While the stat sheet shows that Dupree had 1.5 sacks in this game, those came on coverage and clean up sacks rather than true wins against Tunsil. The film shows that Tunsil basically erased Dupree from that left side. These types of reps came up on film way more than I would have liked.
For this final portion of the film review, I actually wanted to dive deeper into Dupree's sack production to see how much of it he actually created and how much he benefitted from his surrounding cast and scheme. As a result, I went back and tracked each of Dupree's sacks from the 2020 season.
These are the results that I came away with for all eight of his sacks:
Clean up/coverage sacks:

4.5

Unblocked sacks:

1

Quality sacks:

2.5
This means that only 2.5 of Dupree's 8 sacks came as a result of him directly winning his rep and creating the sack (for comparison's sake, here's Brandon Thorn's high-quality sack leaderboard from 2020). The other 5.5 sacks were Dupree benefitting from his surroundings, but that is not necessarily a bad thing. While you would prefer an elite pass rusher who consistently wins one-on-one matchups, a player like Dupree is still very valuable. Finishing sacks and cleaning up on the quarterback is a talent in its own right. In 2020, the Titans almost never had that finisher, even with good coverage on the back end, especially on third downs. How many times last year did a Titans player have a free run at the QB only to completely whiff and allow a long third-down conversion? More than I'd like to count…
Even if we take a look through all of the clean up and coverage sacks, Dupree is still displaying his fantastic motor and twitchy burst to close in on quarterbacks quickly. While Dupree may not have the same supporting cast he did in Pittsburgh, his constant high intensity should lead to a baseline level of production of sacks and pressures. If he can continue to develop his rush arsenal and find one or two "go-to" moves to focus on, double-digit sack seasons should be easily attainable for Dupree in Nashville.
Conclusion
This article is fairly critical of Bud Dupree, but this is my honest film evaluation. Despite all of my critiques, Dupree is still a very good player and one that will certainly upgrade the Titans' defense and pass rush. He immediately becomes the best edge rusher on the team, and probably the best to wear two-tone blue since Brian Orakpo (given that Cameron Wake was well past his prime).
Dupree is a good start to upgrading the edge group, but personally, I still think the team should add another veteran (like Ryan Kerrigan or Justin Houston) to the mix and have a better rotation of snaps to keep each player fresh on the field.
Overall, I expect Dupree to be the Titans' leader in sacks and pressures for the 2021 season. The team expects him to meet those goals because they paid him accordingly. While I do believe there was a mutually beneficial relationship between the Steelers and Dupree, the Titans will definitely need him to amp up the pass rush this season and spread the benefit to the players around him.
Author: Joshua Hong
Josh is a first-generation Titans fan, growing up in a household that did not watch football. However, he quickly became obsessed with the team while watching Chris Johnson and then Marcus Mariota. He especially enjoys learning about quarterback and wide receiver play. Josh is a former writer for Music City Miracles and makes Titans-related video threads on Twitter. He contributes to Broadway Sports as a writer and video content creator.