The Titans have a lot of important pieces going through the healing process currently. Today we are going to look at the second injury report (typically a rest day for veterans) and see who is trending up, and who is trending down.
Here's a quick peek at the injury report for both teams.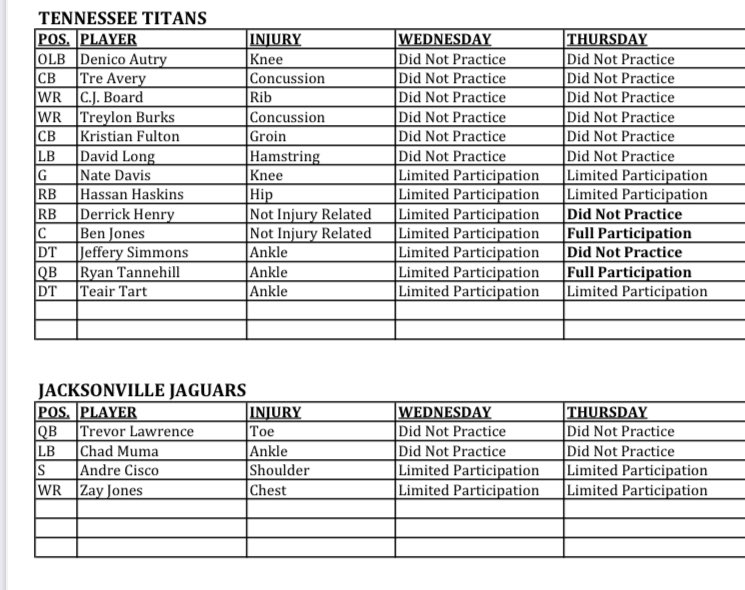 Trending Up
Hassan Haskins (Hip, Limited Participant): Two practices back to back, is a good sign for his availability on Sunday. He may still be rested another week as the Titans could choose to keep Julius Chestnut active.
Racey McMath (Coming off IR, Full Participant): I am including McMath just because the trending downward is so depressing. However, McMath was mentioned by DTs Coach Craig Aukerman he will get a shot at joining in the return man rotation at practice today, just in case CJ Board can't go.
Ben Jones (Not Injury Related, Full): Like I said yesterday, it was just a rest day for Ben. Good to go.
Trending Down
Treylon Burks (Concussion, DNP): No practice today for Burks puts him as highly doubtful he will see any action this Sunday. This was the likely outcome after the illegal, cheap hit. Remember he has to log a practice, get cleared by medicals the next day, and have another practice
David Long (Hamstring, DNP): Like I said yesterday Hamstring injuries linger, hopefully this is a resting type deal, because sometimes thats the only way to heal from a soft tissue injury.
Kristian Fulton (Groin, DNP): Same for Fulton. Titans desperately need Fulton on Sunday considering it's looking unlikely the next player will be clear for action.
Tre Avery (Concussion, DNP): One of Avery and Fulton need to clear the report to be able to play. Fulton is more likely. Remember Avery has to log a practice, get cleared by medicals the next day, and have another practice
CJ Board (Ribs, DNP): I'm a big Board guy, but he took some brutal hits in Philadelphia, both because of blocking and his own doing, according to Aukerman. I would put him as doubtful at this moment, and we all need to pray for our punt returns this weekend.
Denico Autry (Knee, DNP): The team's defensive MVP is unlikely to be back this weekend in my opinion.
Rest Day Guys
Jeffery Simmons (Ankle, DNP)
Nate Davis (Knee, DNP)
Derrick Henry (Not Injury Related, DNP)
The Enemy
Trevor Lawrence (Toe, DNP): A second straight did not participate for The starting quarterback of the Jaguars. There is still a possibility he could play, and they're resting him, but he is trending down.
Zay Jones (Chest, Limited Participant): Second straight day Jones is a limited. Should play, but if he downgrades to out tomorrow something to keep an eye on.
Author: Zach Lyons
With over 17 years experience of losing Fantasy Football games, Zach has been a Titans fan since moving to Nashville in 2002. A die-hard Alabama fan, but he doesn't let that cloud his judgement of the Elite Players they have put in the NFL. Players like Derrick Henry, Julio Jones, and AJ McCarron. You've heard him on Football & Other F Words giving his Unfiltered Opinions as facts and that won't change. He's always 100% right even if he has to revise earlier statements. Lawyered.