More players got added to the team, while another player got added to Injury reserve.
Here's a quick peek at the injury report for both teams.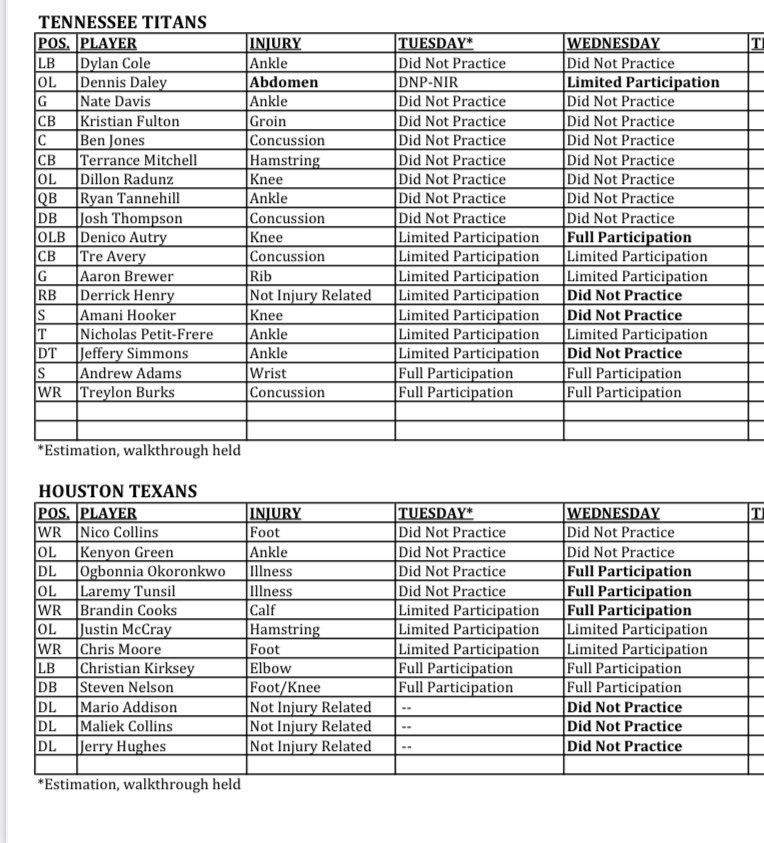 Season Is Over
Dillon Radunz: All the playing well for the Titans will get you is a trip to the IR.
Trending Up
Treylon Burks: A full participation back to back! Malik will need him on the field desperately versus the Texans
Denico Autry: Full Practice!
Tre Avery: Limited, already out of protocol technically, but looking like he should be ready
Trending Down
Ben Jones: Likely to miss the next two games based on the Titans usual concussion protocol
Nate Davis: Another do not practice, and the third OL in two days signed to the practice squad doesn't bode well to his availability for Sunday. yay…
Ryan Tannehill: I think the Dobbs signing and recent reports means its highly doubtful he's playing. I was already skeptical he'd play again this season, but Paul Kuharsky reported that according to multiple sources he's likely out. yay….
Terrance Mitchell: Avery is Healthy. Mitchell is injured. Thems the breaks
Dylan Cole: With Zach Cunnginham getting practices in, probably best to let Cole continue to sit out.
Kristian Fulton: Still no practice
The Enemy's Biggest Players
Brandin Cooks: Limited Yesterday. Full today. Likely playing.
Nico Collins: Misses his second straight day
Laremy Tunsil: Back. Recovered from illness.
Kenyon Green: Misses his second straight day
Author: Zach Lyons
With over 17 years experience of losing Fantasy Football games, Zach has been a Titans fan since moving to Nashville in 2002. A die-hard Alabama fan, but he doesn't let that cloud his judgement of the Elite Players they have put in the NFL. Players like Derrick Henry, Julio Jones, and AJ McCarron. You've heard him on Football & Other F Words giving his Unfiltered Opinions as facts and that won't change. He's always 100% right even if he has to revise earlier statements. Lawyered.