I wanted to do something a little different for the proverbial rest day. I wanted to look at numbers and see who has been missed more by the team with their absence. If you want to skip that, just click here to head to the injury report section.
Denico Autry
| | | |
| --- | --- | --- |
| Stat | With Autry | Without Autry |
| Overall EPA/Play | 12th | 31st |
| Overall Success Rate | 3rd (40.1%) | 25th (47.4%) |
| Pass EPA/Play | 12th | 32nd |
| Pass Success Rate | 9th (43.6%) | 31st (53.7%) |
| Rush EPA/Play | 2nd | 7th |
| Rush Success Rate | 1st (31.4%) | 8th (35.6%) |
| Pressures Per Game | 22.8 | 12 |
| Points Allowed Per Game | 18.5 | 30.3 |
| Yards Allowed Per Game | 349 | 418.3 |
Treylon Burks
Stat
With Burks
(Weeks 1-4)
Without Burks*
(Weeks 5-9)
With Burks
(Weeks 10-12)
Without Burks
(vs JAX)
Overall EPA/Play
19th
22nd
10th
21st
Overall Success Rate
15th (45.6%)
28th (39.5%)
15th (44%)
9th (47%)
Pass EPA/Play
12th
32nd
4th
24th
Pass Success Rate
8th (50%)
32nd (37.2%)
5th (51.8%)
9th (48.9%)
Rush EPA/Play
26th
8th
28th
18th
Rush Success Rate
17th (40%)
17th (41%)
27th (31.4%)
12th (42.1%)
Total Points Per Game
18.75
18.5
20
22
Total Yards Per Game
287.5
269.5
353
364
Passing Yards Per Game
185.3
87.25
284.3
227
Passing TDs Per Game
1.7
0.3
1.3
2
*Two Games with Malik Willis
Conclusion
I think with the way the Titans defense was looking and how they were winning games, that it's easy to conclude that the Titans miss Denico Autry more than Treylon Burks. However, they do miss both.
Injury Report Info
Here's a quick peek at the injury report for both teams.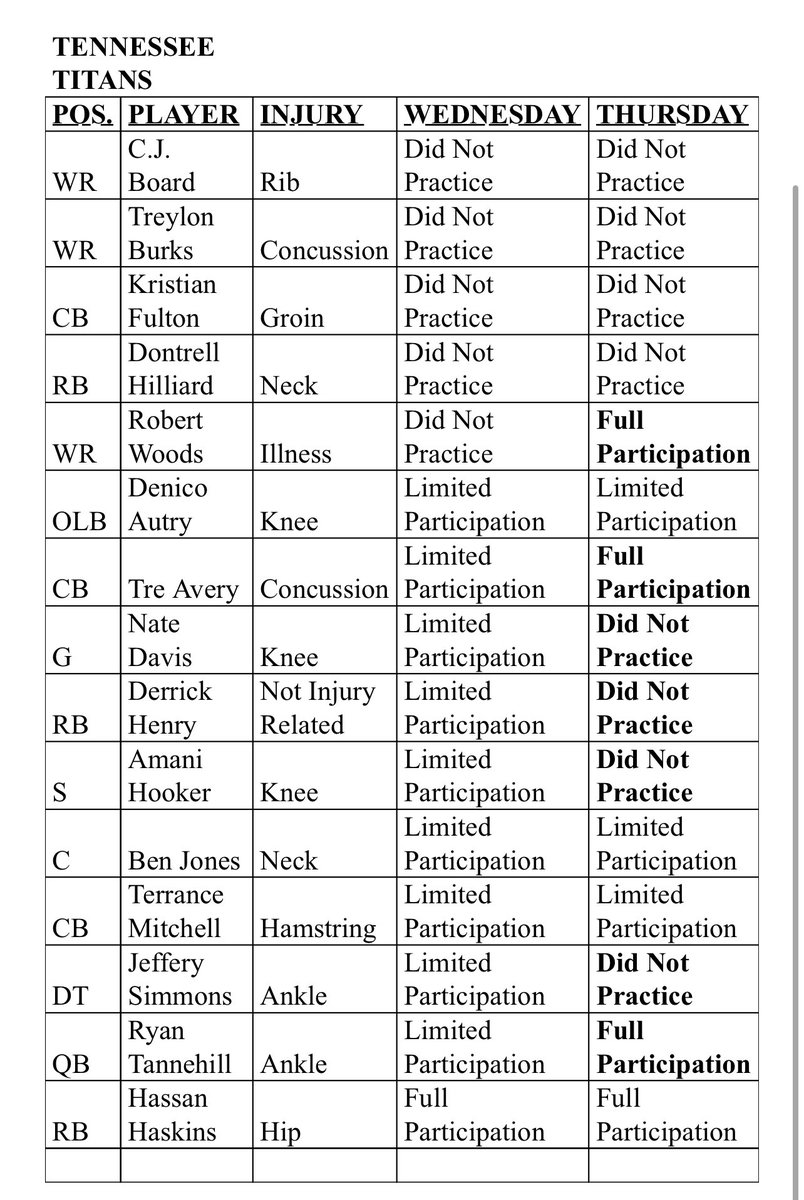 Quick Updates
Lonnie Johnson, Jr: 21-day practice window open. If both him and Cunningham are activated to the roster that leaves the Titans only able to activate one of the following three: Elijah Molden, Kyle Philips, & David Long, Jr
Zach Cunningham: Yellow contact jersey
Robert Woods (Illness, DNP): Survived his disease
Dontrell Hilliard (Neck, DNP): Don't expect him back Sunday, and I wouldn't bet next Sunday either
Denico Autry (Knee, LP): Momentum looking good
Hassan Haskins (Hip, FP): Ready for his bigger role on Sunday
Treylon Burks (Concussion, DNP): See ya next week
Tre Avery (Concussion, LP): Looks to be clearing protocol
Kristian Fulton (Groin, DNP): Pray that they're just healing via rest and he can play on Sunday
CJ Board (Ribs, DNP): 
Everyone Else: Veteran Rest Day
Author: Zach Lyons
With over 17 years experience of losing Fantasy Football games, Zach has been a Titans fan since moving to Nashville in 2002. A die-hard Alabama fan, but he doesn't let that cloud his judgement of the Elite Players they have put in the NFL. Players like Derrick Henry, Julio Jones, and AJ McCarron. You've heard him on Football & Other F Words giving his Unfiltered Opinions as facts and that won't change. He's always 100% right even if he has to revise earlier statements. Lawyered.