After spending money to improve their group of pass rushers this season, the Titans have just four sacks through three games. Only five teams have taken down opposing quarterbacks fewer times.
The Titans top five edge players, Harold Landry, Jadeveon Clowney, Vic Beasley, Kamalei Correa, and Derick Roberson have combined for a whopping zero sacks. Of course, Beasley has played just 16 snaps after starting the year injured, and Roberson has yet to make his 2020 debut. But the Titans undoubtedly expected more from this group so far this season.
So what's the problem? Are the pass rushers not winning matchups? Does the team need to blitz more often? Or is there another factor at play?
Perhaps most surprising is how effective the Titans have been at generating pressure, despite how it may feel in hindsight. The team currently ranks 6th in pressure percentage per Pro Football Reference, pressuring 27% of opponents' dropbacks.
Converting Pressures into Sacks
There are two primary factors influencing the Titans' low sack total thus far. One is an inability to convert pressures into sacks. With only 4 sacks on 31 pressures, the Titans are third-worst in the NFL in turning pressures into sacks. Jacksonville at 3 for 24 and Carolina at 2 for 17 are the only teams below Tennessee.
In fact, the Titans currently have 17 QB Knockdowns – more than all but one team in football, which means the Titans have been taking the quarterback to the ground plenty. Doing it while the QB still has the ball seems to be the issue. They lead the NFL in QB Knockdown percentage at 16.2%.
There's much debate about whether the ability to turn pressures into sacks is a "skill" or not. Beasley famously racked up 15.5 sacks in 2016, the most in the NFL, on just 56 pressures, 18th-most in the league. If this is in fact a skill, maybe Beasley can help improve the Titans' sack numbers with increased opportunity, but I lean towards this being more related to luck and something that could balance out as the season wears on.
An argument could be made that the poor coverage in the secondary is the reason these pressures aren't converting to sacks more frequently. If the quarterback was forced to hold the ball for just a tick longer, perhaps the pass rush would get home. I do think there is something to this theory, but it's hard to quantify with statistics.
Using PFF coverage grades to gauge the Titans cornerback performance, we find that Kristian Fulton is the highest graded Titans corner in coverage at 51st out of 116 qualifiers. Johnathan Joseph is 53rd, Malcolm Butler is 87th, and Chris Jackson is 115th.
These coverage grades are subject to whatever biases are associated with PFF, but they still tell us something about how this unit is performing relative to the rest of the league. It seems highly likely to me that better coverage would result in a few of these "almosts" resulting in actual sacks.
Pass Rush Opportunities
The other big determining factor is lack of opportunity. The Titans simply have not had many chances to pin their ears back and get after the passer in obvious passing situations.
The Titans rank 22nd in number of third downs faced. Of those 33 third downs, only 18 have seen the opponent need 7 or more yards to gain, and only 10 have been 3rd and 9 or longer.
The Titans need to force more obvious passing situations to allow the pass rushers to take advantage. The end of the Vikings game is a perfect example. Trailing with no timeouts remaining and time ticking away, the Vikings finished the game in obvious passing situation territory, and the Titans defense was able to put Cousins under heavy pressure.
Conversely, as we wrote about Tuesday here at Broadway, the Vikings failed to convert a single third down when needing more than three yards. Creating more third and long situations is crucial for this defense.
In order to force more obvious passing situations, the Titans need to be better against the run. No team is allowing more yards per carry than Tennessee's 5.8 average. FIVE-POINT-EIGHT. That's a first down given up every two carries (every 1.7 actually), or the full length of the field in just over 17 rush attempts. That's way too high!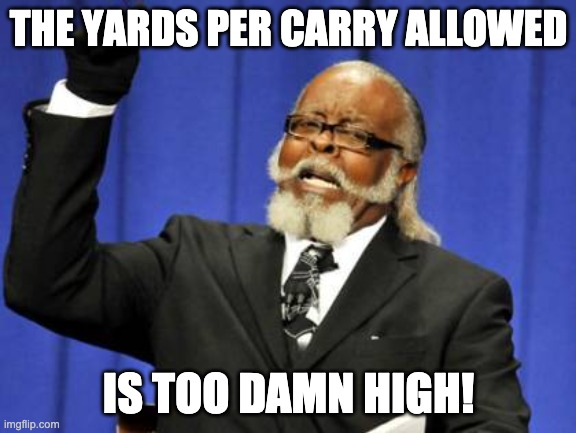 The linebackers and safeties have been slow to react and content to wait three or four yards downfield for plays to come to them instead of shooting their gaps.
On top of that, the Titans are tied for 11th with 24 missed tackles, an average of 8 missed tackles per game. Dalvin Cook set his career high in rushing yards with 181 one week after James Robinson set his own career high (granted in just his second career game, but he still went for 102 yards on 6.4 yards per carry).
Looking Ahead
If the Titans want to get better at rushing the passer, they need more chances to rush the passer. The easiest way to do that is stop the run on early downs and force the other team to throw. It's not necessarily about more blitzes (they are 6th in the NFL already), and the pressure rate shows that for the most part, the pass rushers are affecting the quarterback.
Cleaning up these concerns in a week with no on-field or in-person practices will be extremely difficult but particularly important before the team faces Ben Roethlisberger (assuming the Titans-Steelers game goes forward as planned this weekend). Roethlisberger is one of the best ever at not allowing a defense to convert pressures into sacks.
Currently, Big Ben is third in the league in shortest average time to throw at just 2.4 seconds. Forcing him to hold the ball longer will require the combined efforts of better coverage and longer down-and-distance chances.
If the Titans can improve those two key areas, the sacks should follow.
Author: Justin Graver
Perhaps best known as @titansfilmroom on Twitter, Justin Graver has been writing and creating content about the NFL and the Tennessee Titans for nearly a decade as a longtime staff writer (and social media manager) for the SB Nation site Music City Miracles. Although JG no longer writes for Broadway Sports, his Music City Audible podcast with co-host Justin Melo continues.