With the 22nd overall pick, the Titans took Virginia Tech cornerback Caleb Farley. Largely regarded as a top-10 talent in this draft class, Farley took a bit of a slide to the Titans due to his injury concerns — specifically his two back surgeries. Farley is clearly a very talented prospect, but there is a reason that he dropped to the Titans. How serious are these injuries? What is his prognosis? I'll answer all of those question in this article, but first let's walk through Farley's injury history.
Injury History
2017
Farley suffers a non-contact ACL tear two days into camp and misses his entire freshman season.
2019
Farley misses the final two games of his redshirt sophomore season due back spasms.
In an interview, Farley states that he had suffered disc herniation at the L5 level and a bulge at the S1 level during a deadlift, requiring him to get a microdiscectomy at L5. At the time, Farley chose to manage the S1 bulge with conservative treatment.
2021
After sitting out of the 2020 season due to COVID-19 concerns, Farley reaggravated his S1 bulge, causing him to get another microdiscetomy at the S1 level this time.
It is also important to note that this was all caused from the same initial deadlifting incident; Farley even states, "It was not a recurring disc or anything like that. What I had previously worked on is still intact. It was great news. I'm actually excited about this."
Understanding the injuries
ACL Tear
Let's first start with the ACL tear during his true freshman year.
ACL injuries are fairly common in cutting and planting sports. It's the same injury that Jeffery Simmons suffered in the pre-draft process, which also didn't prevent the Titans from selecting him in the first round.
The ACL, or the anterior cruciate ligament, connects the femur to the tibia and prevents anterior translation of the tibia. Essentially, it is an important ligament for maintaining knee stability during cutting and change of direction activities.
ACL tears often occur with a cutting and planting movement in a sudden change of direction, as well as jumping, pivoting, and twisting activities.
Lumbar Disc Herniation/Microdiscetomy
In the spine, the intervertebral discs sit in between each vertebrae. The functions of these discs include providing shock absorption to the spine, hold the vertebrae of the spine together, and providing flexibility/movement in the spine.
The intervertebral disc is composed of the annulus fibrosus and the nucleus pulposus. The annulus fibrosus is the pink donut looking outer ring in the image below and it functions in holding the vertebrae together and keeping the inner nucleus pulposus in place. The nucleus pulposus is the jelly-like substance that sits within the annulus fibrosus and functions in providing shock absorption throughout the spine.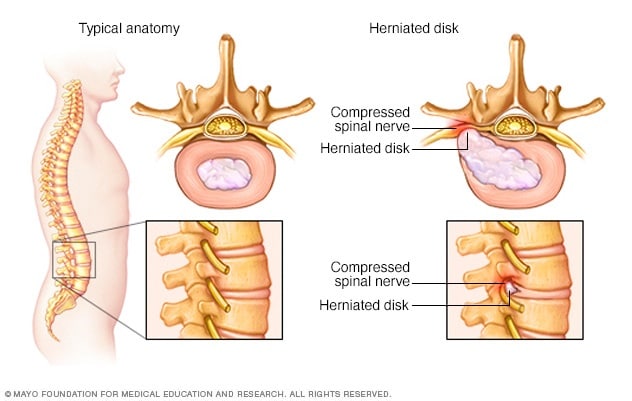 A disc herniation occurs when the outer annulus fibrosus is torn and the inner nucleus protrudes out. This protrusion (herniation) can impinge on the spinal cord or the nerve root, which can cause sciatica nerve pain and back spasms. Disc herniations are caused by degenerative microtrauma with repetitive twisting/turning activities or from poor posture during lifting.
Disc herniations at the L5-S1 level, also known as the lumbosacral joint, are most common because it is a transitional region that transfers the load of the spine down to the pelvis and legs, like during deadlifts, causing a higher degree of mechanical stress.
Farley received a microdiscetomy to remove the portions of the herniated disc and to alleviate any pressure it caused on the surrounding nerves.
Future outlook
ACL Tear
Farley tore his ACL way back in 2017 as a true freshman at Virginia Tech. A study on the players drafted between 2006 to 2012 to the NFL with a previous ACL injury showed that reinjury occurred in about 25% of prospects. It's important to note that ACL rehabilitation has significantly improved since this study.
Also, the highest risk of retearing the ACL occurs within two years of the initial tear. Farley has passed this two year timeline; it has been about four years since his initial tear without a retear. Studies do show that patients under the age of 20, Farley was 19, have the highest rate of reinjury at 29.1%, which matches up pretty closely to the previous study done on NFL prospects.
Overall, Farley has passed the highest risk window of retearing his ACL, but given his age, there is still some risk that it could become an issue again at some point during his career.
Lumbar Disc Herniation/Microdiscetomy
At the age of 22 years, Farley has not only had one, but two microdiscectomies. However, like previously mentioned, they came from the same initial deadlifting incident rather than being a recurrent herniation.
Studies show that 75-80% of NFL players that underwent a microdiscectomy were able to return to play. 15% of those players that returned also required a revision surgery. This risk may be increased since Farley had two separate procedures at different levels.
The average length of career length after a microdiscectomy in the NFL was 3.1 years (or about 36 games), but the average age in this study was 27.5 years. These numbers may not apply specifically to Farley because the players in this study were much older. The literature also show that those who received surgery had significantly better outcomes and longer careers than those who tried to manage the herniations conservatively.
Another study states that performance outcomes (based on games played and in game production) were excellent after microdiscectomies for NFL players; the postoperative performance outcomes were equivalent to preoperative levels. Here is the conclusion statement from that same study: "Despite the general opinion of many NFL general managers, players who are able to complete the rigorous rehabilitation required to return to play after lumbar discectomy can expect excellent performance-based outcomes after surgery."
Some other notable NFL players that successfully came back from this same surgery include Tony Romo, JJ Watt and Rob Gronkowski. Specifically for Gronkowski, he had the same microdiscectomy procedure in college, but has still had a long 10 year career in the NFL.
Conclusion
Overall, the future prognosis does look promising for Farley, especially if the Titans medical staff were able to get the necessary medical information on Farley's injury and if Farley has been working hard in his rehabilitation. Both of which are true.
The Titans were ultimately able to medically clear Farley and were comfortable enough to draft him in the first round. The Titans were not the only team to feel this way. Obviously like I mentioned above, there is always a risk of reherniation, but the medical information, such as imaging, that the Titans were able to attain should help provide a more clear picture as to exactly how much risk there is for Farley specifically.
If he can stay healthy, the Titans came away will a top-10 talent and one that can contribute right away. When asked if there was a possibility of not being ready by camp, Farley responded, "I rebuke that in the name of Jesus. I'm expecting to be ready." I think it's safe to say that he will be ready for the season.
Author: Joshua Hong
Josh is a first-generation Titans fan, growing up in a household that did not watch football. However, he quickly became obsessed with the team while watching Chris Johnson and then Marcus Mariota. He especially enjoys learning about quarterback and wide receiver play. Josh is a former writer for Music City Miracles and makes Titans-related video threads on Twitter. He contributes to Broadway Sports as a writer and video content creator.