Today the Tennessee Titans put out their first "unofficial" depth chart of the 2022 regular season. While there are no major shocks, there are some interesting items to take a look at.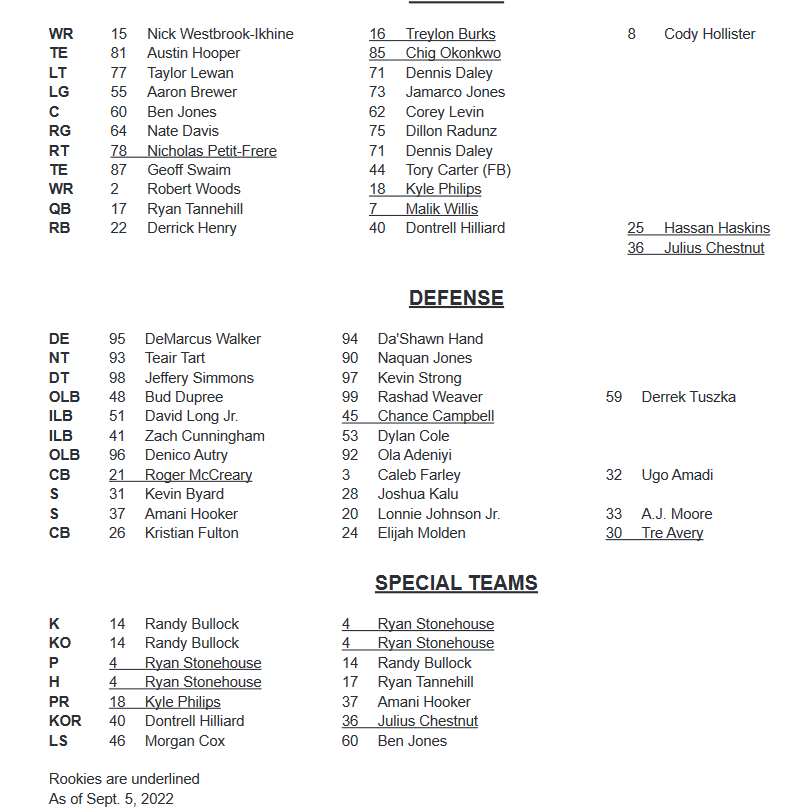 The First Glimpse of Life without Harold Landry
The biggest topic floating around Titans fans is how the defense look without Harold Landry in the mix. A few people, myself included, thought that while his snaps can be replaced easily, the production would have to be replaced by a committee like approach.
We get a first glimpse here that the approach will more than likely see Denico Autry taking more snaps at outside linebacker, and DeMarcus Walker starting at defensive end. I think their listed position is kind of one of those things where they're listed at those spots, but to this defense, they're interchangeable positions.
At this point you're looking for the best combination of defensive linemen and outside linebackers to help maximize pass rush and make life easier for a young secondary. Last year, there were packages where Autry was used standing up as an outside linebacker at about 7.6%of his snaps. Autry also played wide end which sometimes is standing up or hands in the dirt at about 53.5% of his snaps.
Walker, last year, had his career best season with 30 pressures, and spent 50.2% at the outside edges of the Houston Texans defense. The versatility that both of these players have are key reasons why they were added to this team in their respective years. It's also why, when you add Adeniyi and Weaver, that the Titans are such a match up nightmare for defenses, because the versatility allows them to disguise so many things.
So, while the players are important to note, their positions aren't necessarily a thing to focus on.
More Offensive Line Clarity
Say it with me now: Dillon Radunz is not a NFL tackle. However, be warned, if you say this three times in front of a mirror with the lights off and a candle lit, Will Lomas will appear behind you.
He just isn't a tackle. The team doesn't think he is, the majority of analysts pre-draft didn't think he was, and you shouldn't either. This team is working hard to get him into the lineup as a guard. At best, on this team currently, he is the third tackle, and there is a possibility, as we saw last year, he may be fourth and their last resort.
Dennis "New Dennis" Daley, is your main back up tackle. He took over that spot fairly quickly. I think Jamarco Jones listed as the main left guard back up, is just to make the depth chart look even. If either Guard goes down, Radunz is first man up, in my opinion.
"Starters" at Wide Receivers/Cornerbacks
I go more in depth on this tomorrow, but there is absolutely no reason to overreact to who is starting currently at wide receivers or cornerbacks.
I get it, all first round picks must start or they're complete losers and failures. However, both Treylon Burks and Caleb Farley, will get theirs. AJ Brown didn't start breaching 50% snaps in his rookie year until week five, and Farley will have games where he starts as well.
As I said earlier, this defense is all about match ups and when you look at wide receivers for the Giants in Kadarius Toney or Wan'Dale Robinson, McCreary matches up better with them.
I expect, as I will do my best to project tomorrow, both players, and specifically Farley, will have major roles in their respective units while also providing enough value for where they were taken.
Got thoughts of your own on the depth chart? Drop them in the replies below!
Author: Zach Lyons
With over 17 years experience of losing Fantasy Football games, Zach has been a Titans fan since moving to Nashville in 2002. A die-hard Alabama fan, but he doesn't let that cloud his judgement of the Elite Players they have put in the NFL. Players like Derrick Henry, Julio Jones, and AJ McCarron. You've heard him on Football & Other F Words giving his Unfiltered Opinions as facts and that won't change. He's always 100% right even if he has to revise earlier statements. Lawyered.