The Tennessee Titans released their first unofficial depth chart for the 2021 season today. Let's start by noting that this depth chart is unofficial, includes 90 players on it, and was probably put together by a staffer in about 15 minutes. Twisting yourself into knots trying overanalyzing this thing is not advised.
With that being said, here is the depth chart, and below it are a few things that I think you should and should not take away from it.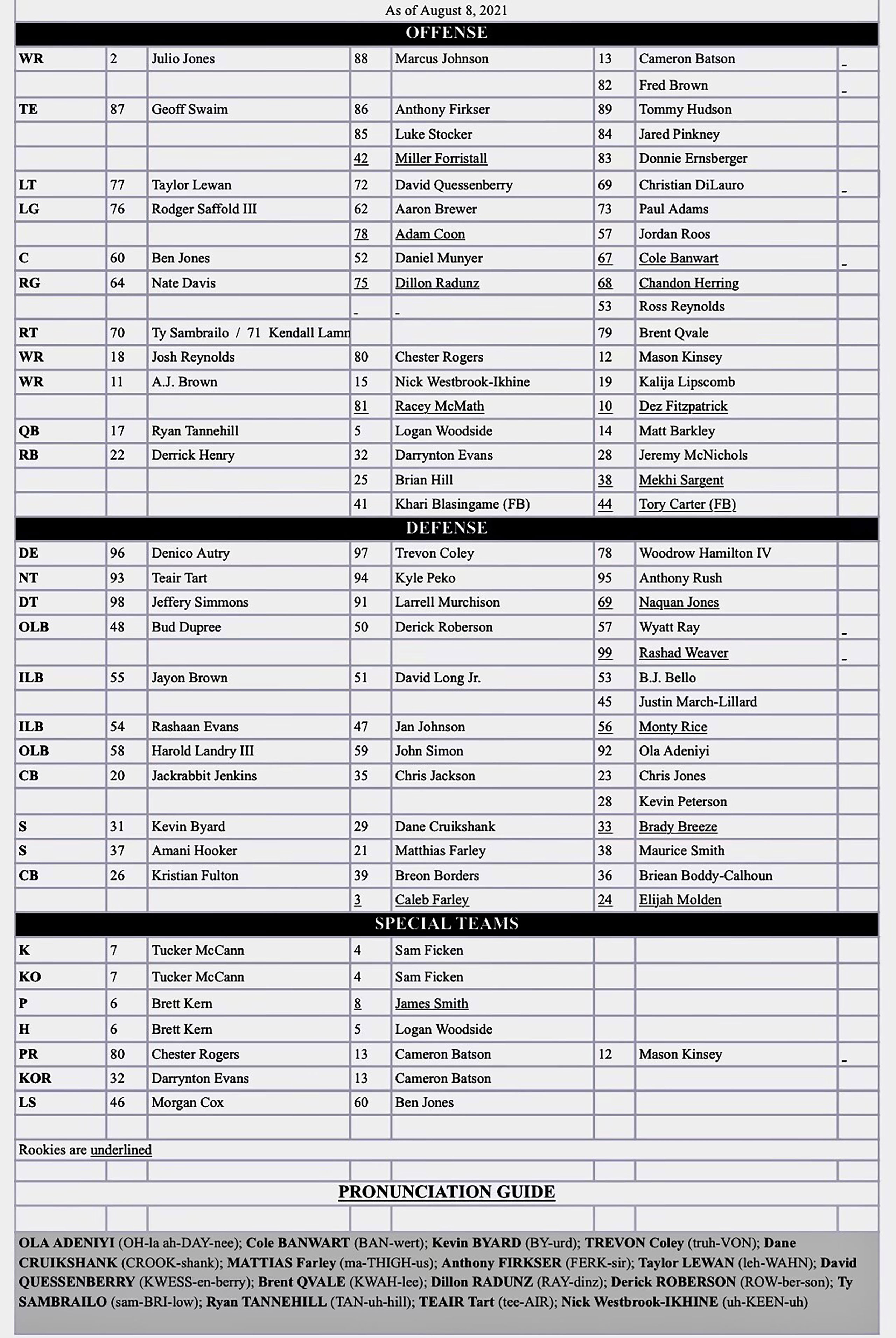 Things you should take away
Kendall Lamm and Ty Sambrailo being listed as co-starters at right tackle is interesting. With Sambrailo coming back from injury, Lamm had dominated the top reps, but that could change as Sambrailo gets worked back in.
Marcus Johnson and Chester Rogers on the second line among wide receivers largely lines up with what we've seen in camp. Those guys are both performing at a high level right now and are real threats to make this roster.
Teair Tart listed as the starter at nose tackle is a real thing. He's going to be playing a lot of snaps in this defense in 2021 and has been one of the stars of camp to this point.
Chester Rogers is listed as the top punt returner ahead of Cameron Batson and Mason Kinsey. That lines up with what we've seen to this point. Whoever wins this role is getting a spot on the 53. To this point we've briefly seen cameos from guys like Darrynton Evans, Amani Hooker, and Josh Reynolds catching punts, but none of them have been among the consistent group day in and day out like Rogers, Batson, and Kinsey have.
Speaking of Evans, him being listed as the top backup to Derrick Henry is somewhat significant. It's the role we all expected him to have, but it was no guarantee that he'd grab it with veterans Brian Hill and Jeremy McNichols in the mix. Evans has looked good in camp and I'd expect him to have a healthy role in this offense.
Tommy Hudson over Luke Stocker for the TE3 role is noteworthy. I find it hard to believe that the Titans are going to keep all three of Swaim, Hudson, and Stocker. Their skillsets are almost identical and it seems like overkill — even for the tight end crazy Titans — to keep all of them on a 53-man roster. Hudson is younger and offers more upside — and cost control — so I tend to think the tie would go to him over Stocker. Right now, that's what they're showing.
We'll discuss the ordering of the rookies and why you should almost completely ignore it next, but there is one thing that keeps me from completely dismissing anything with this group… and that's the fact that Racey McMath is listed ahead of Dez Fitzpatrick. That is reflective of the way camp has gone for these two, and given their draft status, it's notable that the sixth rounder is ahead of the fourth rounder on the initial depth chart. Fitzpatrick will get the benefit of the doubt thanks to his draft status, but he's not a total lock to make this roster in my view.
Things you shouldn't take away
The Titans rookies are all busts!!! Monty Rice behind Jan Johnson? Rashad Weaver behind Wyatt Ray? Dez Fitzpatrick and Racey McMath behind Kalija Lipscomb?? Caleb Farley and Elijah Molden behind Briean Boddy-Calhoun??? What's going on here???? Calm down… the rookies are just fine, the Titans just chose to list them at the back of each position group for whatever reason. Maybe it's motivational, maybe it's just a nod to the idea that everything must be earned. Whatever the the reason, it's not going to reflect reality when cut day or Week 1 come around.
Why is Geoff Swaim starting over Anthony Firkser??? I'm not surprised that Swaim was technically listed with the "starters". Swaim is going to serve as the Titans primary inline blocking tight end this season, and given how Tennessee deploys their personnel, it wouldn't shock me at all if Swaim gets more total snaps than Firkser this season. He's certainly going to play more on early downs, where the Titans prefer to alternate hammering the ball forward with Henry and taking play action shots downfield to their talented receivers. Firkser will have his role and he'll lead the Titans tight ends in pass catching, but Swaim is going to do a lot of the dirty work on early downs so he gets the nod as a "starter". Not a big deal.
Why is McCann over Ficken at kicker when Ficken has NFL experience? I wouldn't read a ton into Tucker McCann over Sam Ficken right now. This is an open competition and my guess is that McCann is listed first simply due to longevity with the team. He may, in fact, win the job at the end of camp, but this is far from settled.
Are the Titans moving Radunz to guard? They're certainly cross-training him at multiple spots right now, but I think they still view him as a tackle long term based on how reps have been distributed in the camp practices that I've been to. Here is where I think we're headed with the offensive line group if I had to guess today… I think Lewan, Saffold, Jones, Davis, and Lamm will be your Week 1 starters and that the Titans will keep Ty Sambrailo, Dillon Radunz, David Quessenberry, and Aaron Brewer (who is currently on the NFI list) as depth. Brewer will be the backup center and they'd like all of the tackles — Sambrailo, Radunz, and Quessenberry — to be able to kick inside and play guard if needed. It's hard to show that effectively on a depth chart and I think that's why Radunz is showing up at guard.
Author: Mike Herndon
After over 20 years of annoying his family and friends with constant commentary about the Titans, Mike started writing down his thoughts in 2017 for Music City Miracles. He loves to dive into the All-22 tape and highlight the nuanced details that win and lose football games. You can now find his tape breakdowns and Anthony Firkser love letters at Broadway Sports. Mike also spends time laughing at Lebowski and yelling at Zach on the Football and Other F Words Podcast.